lived childhood dream – because of love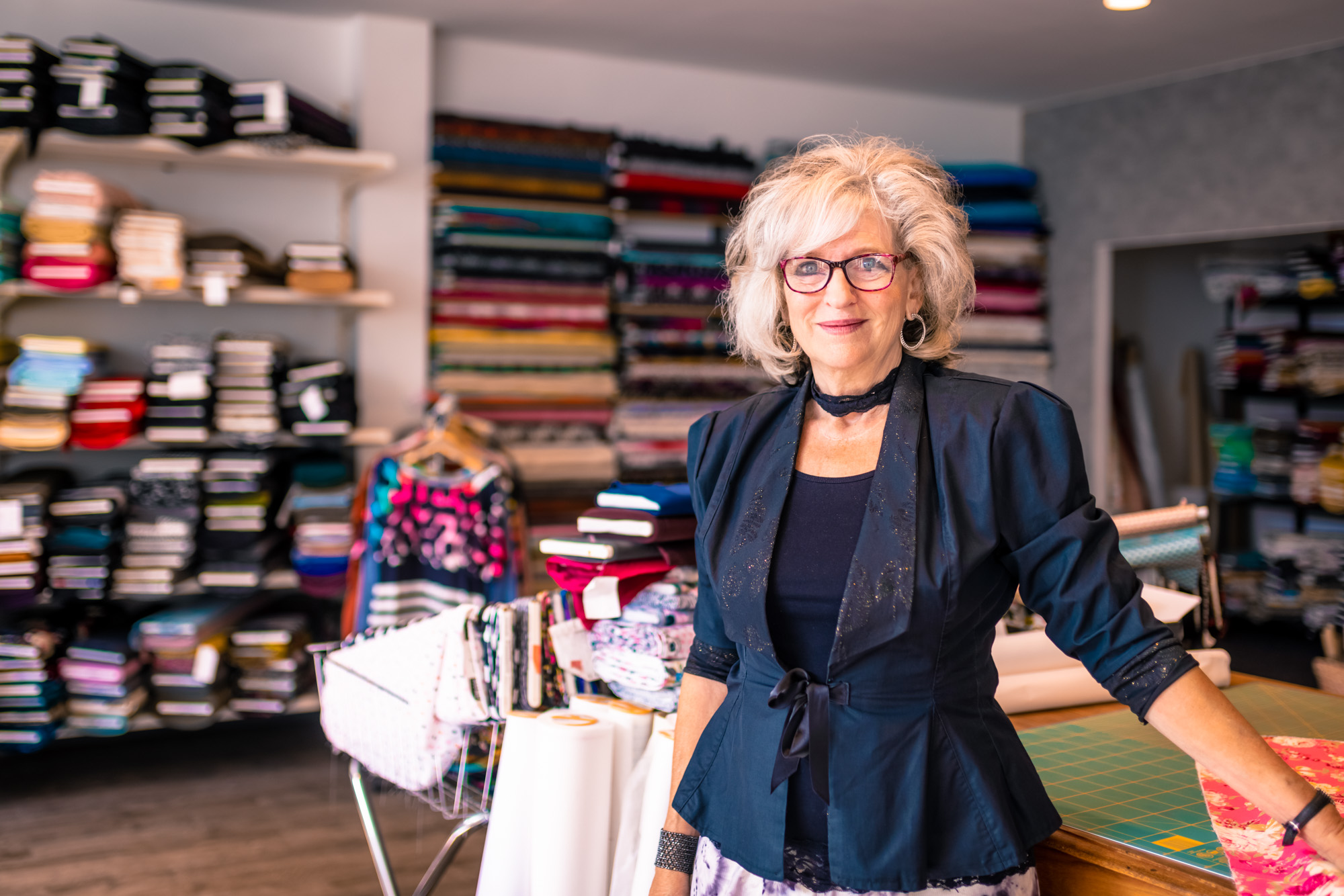 INTERVIEW
When was the company founded and how did it come about?
Previously, I worked as a fabric designer in the industry. The small and large textile companies in Forst closed down, but I was keen to stay in Forst. Sewing has always been my passion, and I had the dream of a small shop for a very long time. My childhood dream became my perspective. I prepared myself for it and researched whether a fabric store in Forst would also work. On October 24, 1998 I opened my first small store in Cottbuser Straße 103. In the meantime I have moved three times. This is my fourth store.
What do you like best about it?
Working with people – seeing them happy. I love my work, I look forward to my sewing machine and my customers every day. Twice a year I organize an event and then when all my customers come and are happy, it's really fun.
What is difficult?
The internet competition is especially noticeable in children's fabrics. But with fabrics it's a little different than with other items. But a lot of customers also come in and say, "Ms. Grätz, we just want to touch the fabrics, we want to see the patterns." I have now included quite a lot of children's fabrics in my range.
There have also been difficult times when there wasn't so much sewing going on. A few divisions have fallen away, such as dance groups, carnival and graduation ball. Now many people have their clothes sent to them and we have to change it. You have to adjust to that a bit, not have too high expectations, stay grounded and then it works.
Are there any typical customers?
I don't necessarily rely on walk-in customers. With fabrics, people come specifically. You don't pick up a meter of fabric in passing, like coffee in the supermarket. I also have ready-sewn pieces or haberdashery, such as a zipper. That's something you can buy in passing.
My customer base is very good and comes from all over the region, from Cottbus and the surrounding area. In the past, many customers were between 45 and 60 years old. In the last 2 to 3 years, a lot of young people have joined. It's a boom now, that young mothers sew a lot themselves, because it's also very easy. I have a lot of space and am thinking of organizing a small sewing school for those who want to learn to sew.
What role does Forst play for you?
I come from Leipzig and studied here at the engineering school. On my 4th day in Forst, I met my husband. We built a house here, had our child and so I stayed. Forst is a textile town and I always liked that. In the meantime I have a very large circle of friends here and I feel comfortable. I love my Forst and its people. It has become my home.
Have you never considered turning your back on Forst?
I worked at Tiroler Loden from 1992 to 1995. They wanted me to move to Innsbruck. But my husband and daughter were against it. I'm glad it didn't work out, otherwise I wouldn't have my store and I wouldn't be living my childhood dream.
Do you offer training, vacancies, internships, vacation work?
I've always offered internships for schoolgirls and those schoolgirls have all become my friends now. They keep coming back every year.
What are your plans for the future?
I want to work as long as I can. The store is so nice and new now, there's no way it's the right time to stop. Of course, if someone comes along now who wants to take over the store and doesn't want to wait that long, then I'll have to think about it.
I have already approached several dressmakers and they are also not averse. But since I couldn't name a specific date, it's still up in the air.
What I don't want is to sell out and then close the store. My wish is a successor.
Address
Berliner Straße 1
03149 Forst (Lausitz)
Opening hours
Monday: 2:00 pm to 6:00 pm
Tuesday to Friday: 10:00 am to 6:00 pm
Saturday: 10:00 am to 12:00 pm
and by appointment