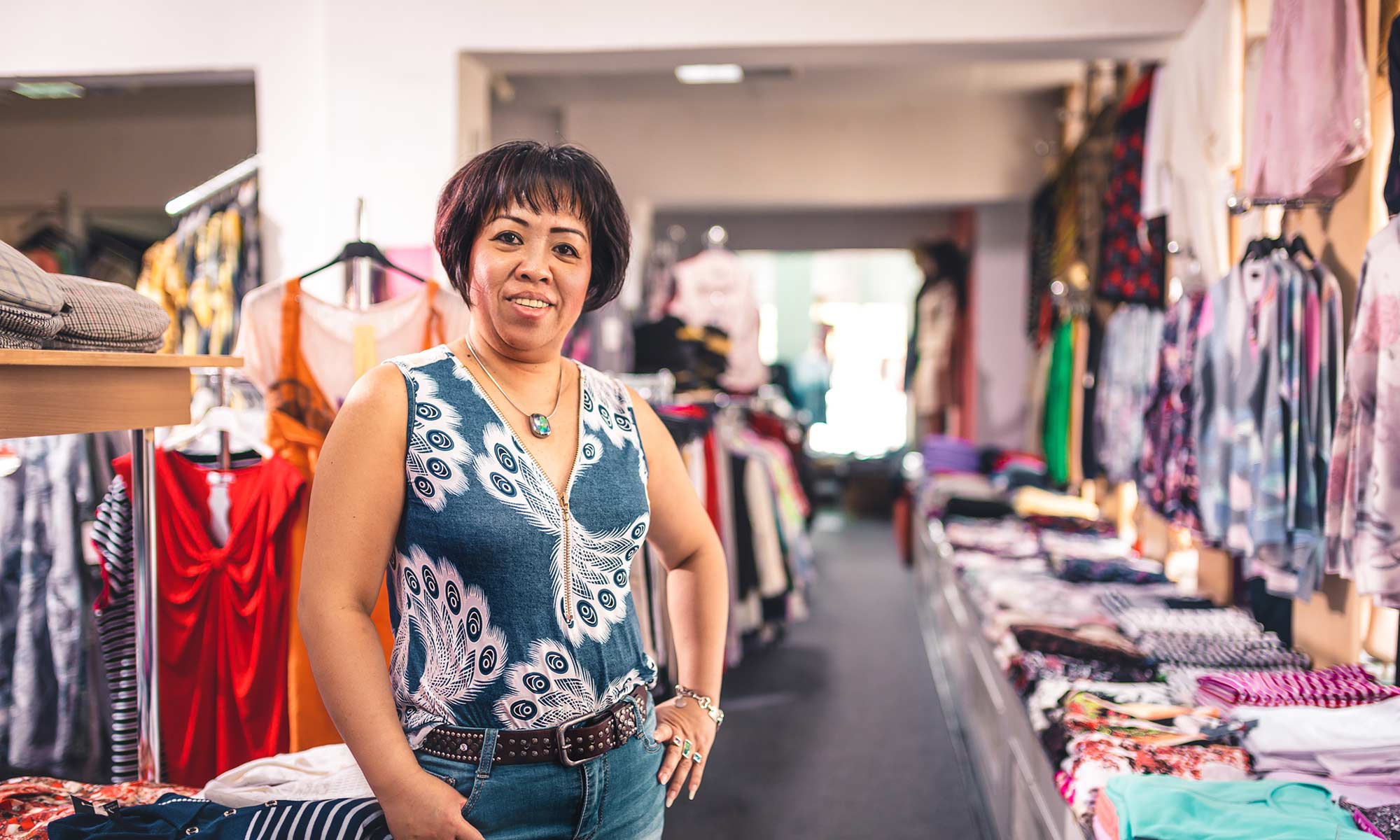 INFORMATION
Mrs. Huong and her husband came to Forst from Vietnam in 1987 to work in the cloth factories. With about 3,000 workers in the textile industry, Forst was one of the most important textile location in the GDR. However, with the end of the GDR, even the cloth factories were facing the end. The Houng family lost their jobs in the textile industry. Going back to Vietnam was out of the consideration. In the meantime, they had been in Germany too long and had found their second home here.
They spent two years looking for professional prospects outside Forst and came back here in 1992. It all started with a market stand. Mrs Houng and her husband travelled from market to market every day, in all weathers. An extremely weather-dependent business, which became more and more difficult over the years. When the weather was bad, the customers stayed away. So they decided to settle down with their busuiness and look for a retail store.
Berliner Straße at the corner of Cottbuser Straße they were able to find the optimal location for their business.
When asked about the difficulties in setting up, they point out that they knew little about running a business. There were many hurdles to overcome. Things, rules and regularities to be observed. A lot of things need to be considered and thought about thoroughly. For Mrs. Houng and her husband, this was all new. When they came to Germany as textile workers, opening a shop was not their professional plan. You have successfully risen to the challenge.
However, they never repent opening a business.  "I love my shop", Mrs. Huong says.
They run their shop with passion and dedication. Older customers in particular, many of them from the surrounding old people's and nursing homes, are always happy to come to them. One customer told us during the interview: "Well, I'm very pleased that the store is here. Let's be clear about that.  I can come and exchange if something is wrong, I always get good advice – so it couldn't be better. I don't have to go anywhere, I can shop right in town."
Younger customers also get their money's worth. The choice is very large. Here everyone will find something to his taste. And if something doesn't fit, Ms. Huong also offers an alteration service.
When asked if they ever wanted to be somewhere else with the business, her answer was a very clear no.  "We are in Forst now – it is beautiful here, we don't want to leave."
Address
Cottbuser Straße 13-16
03149 Forst (Lausitz)
Opening hours
Monday to Friday: 9:00am to 5:00pm
Saturday: 9:00am to 12:00am
Branch
fashion
accessories
place to buy and hand in lottery coupons