we are service providers with heart and mind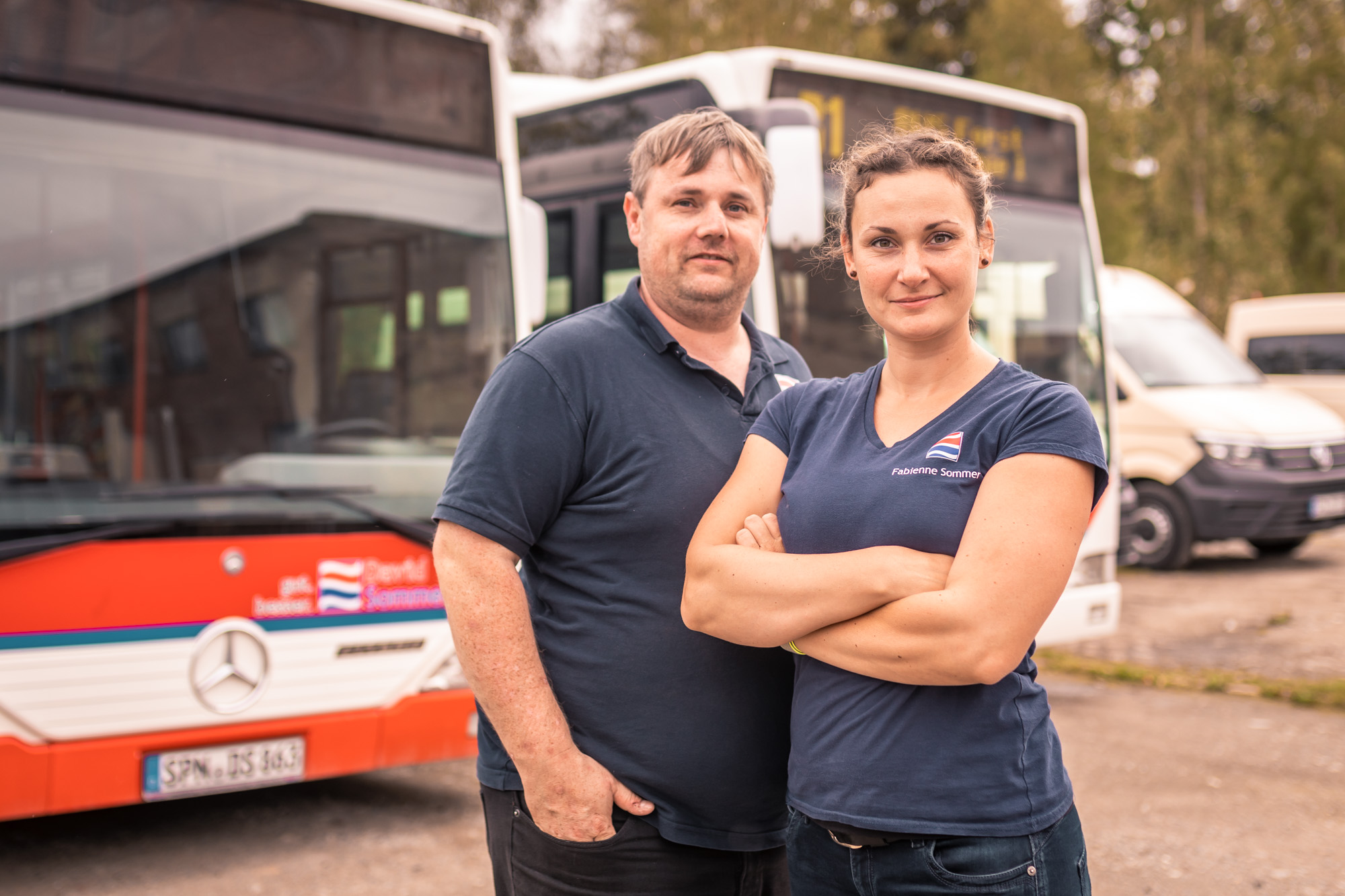 INTERVIEW
You left a relatively secure job in the public sector to go it alone. How did this decision come about?
David Sommer: The position as head of the driving service at the DRK was not the career I wanted. I actually wanted to become a computer scientist. During my studies, I was doing voluntary work for the Red Cross when I was offered the position. The flexibility or spontaneity of a driving service – that appealed to me. What I didn't like was the rigidity of the association. So I decided to become self-employed. I was aware of the risk, but I still wanted to decide for myself and be responsible.
What was or is the biggest challenge?
David Sommer: The biggest challenge at the beginning was the lack of financial background. We started with two vehicles, so it was important to accept every order to be able to cover the fixed costs. We then grew quickly.
Today, it is the short-term nature of the orders that makes it tricky for us. Our customers often only call on the day itself or the day before that they need a ride. We want to guarantee this spontaneity and flexibility at all times. Our customers have to be at their destination at a certain time on a certain day. There is no alternative. Every order that we have to turn down is driven by another service provider. So there is always the risk that the customers will stay there. That is our risk.
So rigid procedures are not for you?
David Sommer: Not at all. That is also what is most beautiful. There are often days when our order situation is such that we don't know how to manage at all. When the day is over and all the customers have got from A to B well and satisfied, then that is very, very nice.
That also requires a lot of flexibility from your staff?
David Sommer: Yes, that's true. However, life is becoming more and more hectic and spontaneous. A lot of things that we would have done earlier a few years ago, we put off until the last moment. Our staff notice this in themselves. At the beginning, we always let new colleagues do the same tours, which gives them stability. As soon as they have been with us longer, most of them don't care at all what and where they drive.
Fabienne Sommer: To strengthen the feeling of togetherness and to have the support of the families, we regularly go on excursions with our colleagues and their families. That's important because we also have to be there on weekends and holidays.
How are the bus trips received?
David Sommer: We drive a lot for the regional market, e.g. the Spremberg workshop for the disabled. Then we are on the road for companies in other federal states and also drive a lot for clubs. Our bus with 70 seats is interesting for many because larger groups only need one bus.
Fabienne Sommer: Bus tours that we organise are a dream for the future. However, not longer trips, but half-day tours. That is something that has not been offered so far, or only rarely.
Address
Frankfurter Straße 33
03149 Forst (Lausitz)
Branch
Driving service
Taxi rides
Bus rides