sustainably produced food direct from the producer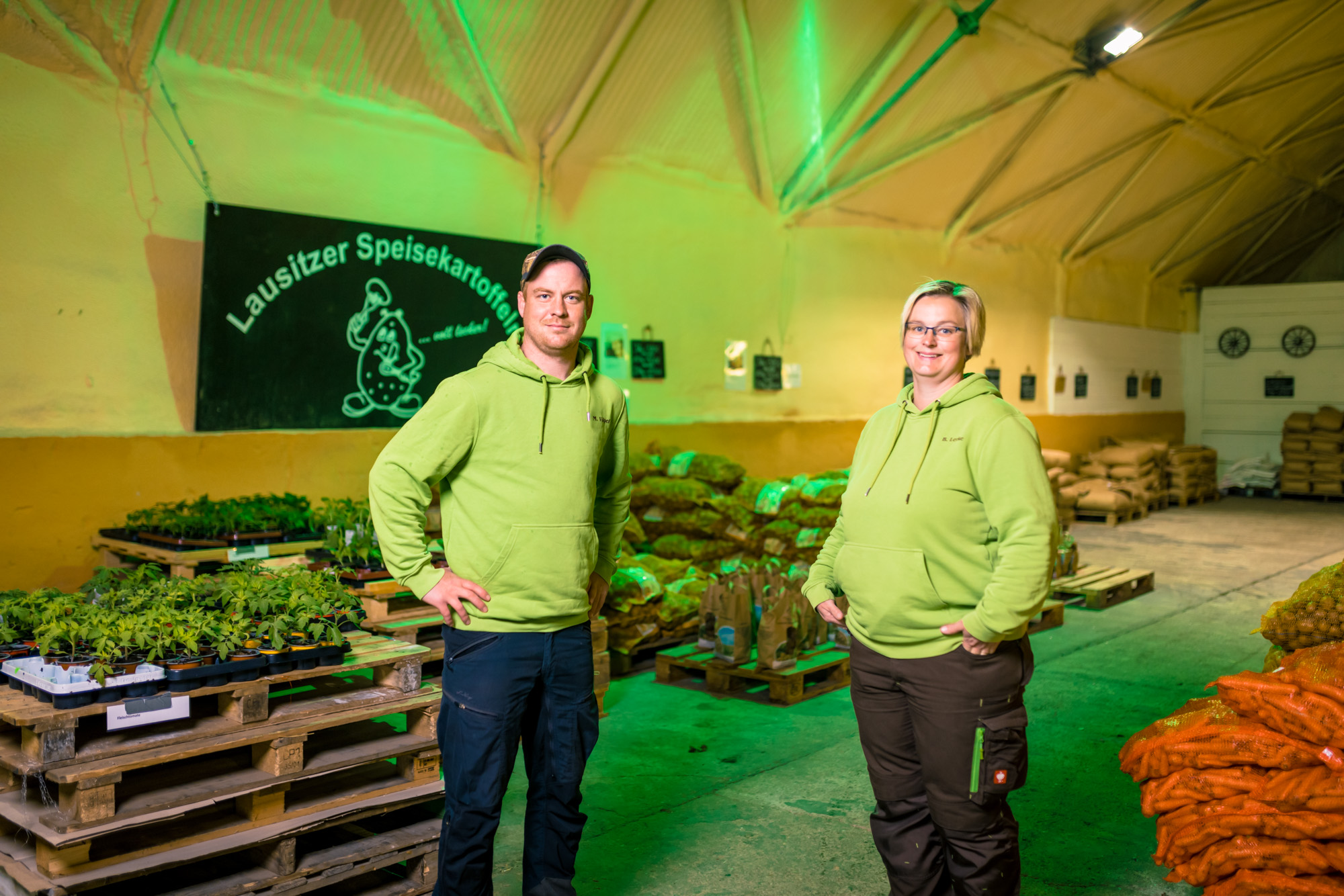 INTERVIEW
About the history of the Agrargenossenschaft Forst eG: The history is certainly a bit longer?
Yes, indeed, we look back on a period of more than 30 years when we look at the history of our company. In August 1990, the LPG (P) Pflanzenproduktion Forst, then based in Eulo, and the LPG (T) Tierproduktion Forst merged to form the Agrargenossenschaft Forst eG. Years of far-reaching changes followed: many farmed areas were eliminated over the years, we separated from pig production and centred milk production on one location. Of course, this resulted in job cuts. Whereas in 1990 we had 450 employees, today we employ about 45-50 people. We could have celebrated our 30th anniversary in 2020 if the Corona pandemic hadn't thrown a spanner in the works.
What do you produce and how do you market your products?
One of our main sources of income is our milk production. With about 550 dairy cows we produce about 5,500t of raw milk a year. From the MVA (dairy plant) in Domsdorfer Straße, the milk is brought to Leppersdorf daily by the Alois Müller dairy.
Another branch of business is cattle fattening; here we work closely with our subsidiary, the "FLEIKU-Fleischrinderbetrieb GmbH".
Our plant production branch, based in Neu-Sacro, cultivates land in the entire area in and around Forst; a total of approx. 2,100 ha. We mainly grow winter wheat, barley, rye, rape, maize, sunflowers and oats. About half of it is used as fodder for our cattle.
However, most people probably know our potatoes, which we grow on an area of about 30 ha, which changes every year. We market our various potatoes ourselves, directly in our farm shop in Gutsweg 5 in Forst (Noßdorf), which is the former Reno hall.
Here we also offer other, mainly regional, products: Juices and fruit wines from Rothenburg, linseed oil from the Spreewald, eggs from Gablenz, honey, vegetables, fruit, garden and balcony plants of all kinds, and now a new addition to our range: speciality spirits.
We also have pet food, seeds, plant fertiliser, gas cylinders and much more available for our customers. We also offer advice to our customers.
Parallel to the farm shop, we offer fresh beef in the form of goulash, steak, minced meat and much more in our meat sale, approx. every 3 weeks. We publish the exact sales dates on our homepage. The range of meat on offer is very large and varied, but we still recommend that our customers order in advance; roulades, for example, are always sold out very quickly. Our customers can also buy sausages on this day. We get our range of sausages from a small butcher's shop in Zittau. Why Zittau? We deliberately chose a butcher outside our catchment area, we wanted to offer a different "taste" in Forst and are pleased that this has been well received.
We had to discard considerations of running a permanent meat shop for reasons of profitability.
Where do your customers come from?
Due to the good location of our farm shop, not far from the motorway, customers from Döbern, Spremberg, Cottbus and of course Forst can reach us easily. It would be nice if we had more customers from the direction of Guben.
Many of them are poultry owners, some have larger animals like pigs or cattle, but horse-dog and rabbit owners can also find everything for their beloved livestock in our farm shop.
What do you particularly like about your work?
Farming offers multifaceted and challenging fields of work.
In crop production, the weather often dictates our working hours, and decisions have to be made at short notice. In animal production, the weather does not play a decisive role. Nevertheless, one thing is the same in both branches of production: you never know what tomorrow will bring…and that is our daily challenge.
And what, on the other hand, is the most burdensome?
Clearly the bureaucracy of our country! Our work is made enormously more difficult by the required documentation of our daily work and the additional workload this entails for us. For us, this means a lot of research, many phone calls to obtain applications and permits. We often spend more time at our desks than doing our actual work.
In addition, the public often has little understanding of how we do our work. Here we would like to see more trust in our professional skills and experience.
In the industrialised country of Germany, agriculture does not enjoy a good reputation. We would like to see a rethink, especially in politics but also from our fellow citizens.
Paying the price that high-quality food is worth should become a matter of course. We should all (be able to) eat more consciously, regional and higher quality food and of course throw away less. This would be the right way.
What are your plans for the future?
As an agricultural business, we are dependent on subsidies. The development of our farm is therefore tied to funding guidelines from the federal government or the European Union. This is how we decide whether to invest in wheat or in flower strips.
In order to be able to survive in the long term with our agricultural enterprise, we will be forced to open up additional fields of business. This includes renewable energies as well as participation in the reforestation of former open-cast mining areas, where we have already been active for many years. In addition, we have already equipped most of our roofs with PV systems.
Are you also a training company?
Yes, we offer training as farmers, animal farmers and agricultural assistants; we currently employ 6 trainees on the farm. So far, we have been able to take on a qualified trainee every year after the training and thus secure skilled personnel.
We also welcome trainees and schoolchildren to apply for holiday work. There is always something to do in our company.
Head office/administration
Address
Domsdorfer Straße 62 a
03149 Forst (Lausitz)
Branch
agricultural holding
Hofladen
Address
Gutsweg 5
03149 Forst (Lausitz)
Opening hours
Tuesday, Wednesday, Friday: from 9:00 am to 12:00 pm and 12:30 pm to 4:00 pm
Thursday: from 9:00 am to 12:00 pm and 12:30 to 6:00 pm
Saturday: from 9:00 am to 12:00 pm

Branch
Lebensmittel & Getränke
Heimtierbedarf
Futtermittel
Gartenbedarf
Gas