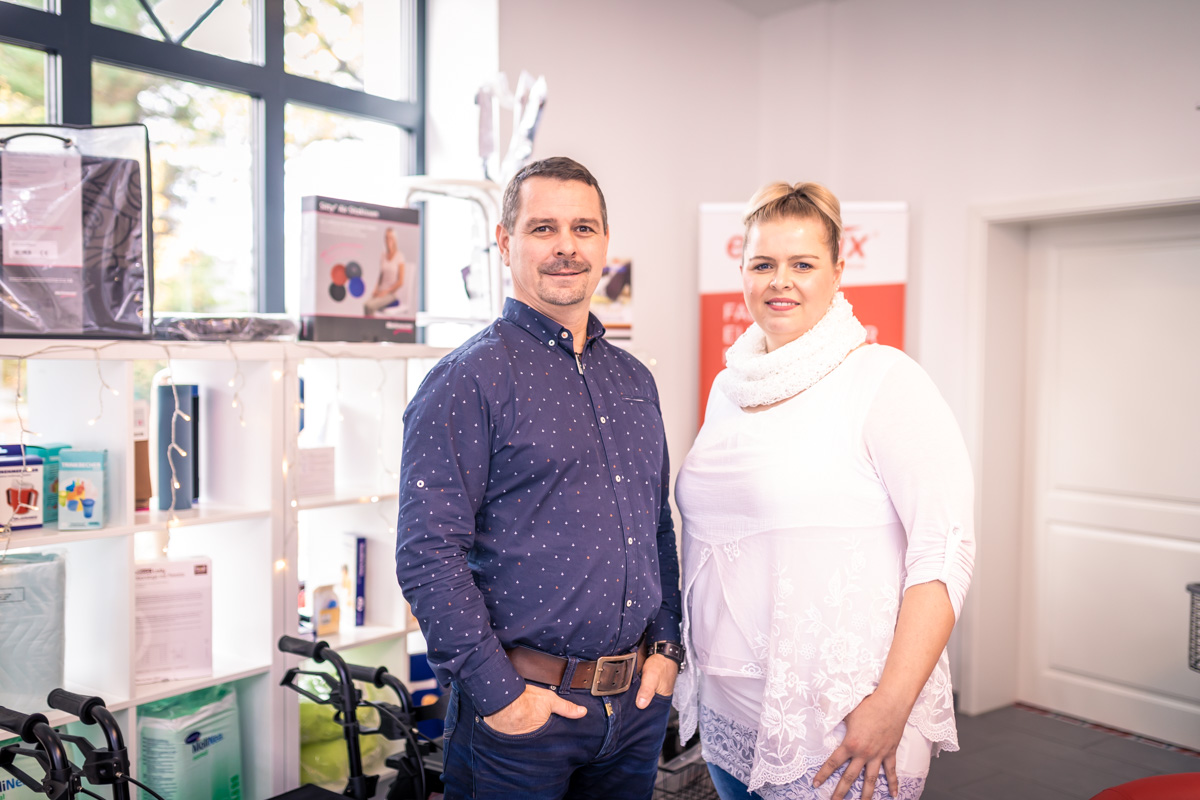 INTERVIEW
Mr. Wunderlich, the company has developed out of the nursing service. How did this happen?
Our nursing center consists of several nursing services and day care facilities in Forst, Guben and Döbern. Since the supply of the patients with the necessary aids often had to be managed with a lengthy approval effort, I told myself that I would now establish a medical center. It wasn't as easy as I had imagined it would be. We had to overcome some bureaucratic hurdles before we got the permit/approval. Since then, we have been much more flexible when it comes to the care of our patients. We sometimes have to make advance payments, but this is very helpful to the patients and especially to my staff.
Mr. Mitschke, you have been employed in the medical centre since 2020, how does your daily work look like?
The patient comes to us with a prescription issued by the doctor. He then receives an individual consultation and we check whether the aid also meets his needs. Many aids are free of authorization from the health insurance company, so the patient can immediately take them away. If approval is required, we will submit a proposal for aids, which will be sent to the health insurance company together with a cost estimate. After the customer has received the approval, we create a delivery note and hand over the order to our logistics department. There, everything is put together with the required documentation and then delivered to the customer. The delivery usually takes place in the customer's living environment, so that the aid can be fitted precisely. We also attach great importance to the living space environment consultation. We want to make the living situation safer and more flexible, so that independence can be maintained in old age.
What do you like about the profession of orthopaedic and rehabilitation technician?
It is a very demanding and varied profession. Medical background knowledge is just as important as manual skills. I build orthotics and prostheses that have to be exactly adapted to the body. In the field of rehabilitation technology, the main focus is on aids for locomotion or positioning.
In addition, I work both in the office and in the field. For me, this variety is the reason why I don't want to leave the profession.
Mrs. Waschek, what is your specialty?
I  am a medical product consultant, so to speak that is the legal basis for being allowed to work in a medical supply store. In my field at a medical supplies store, small bandages, stockings or compression stocking and minor orthopedic devices will be adjusted. Another field is the supply of epitheses and bra supply for women or mother-child counselling.
Is it possible to rent products without a prescription?
Steffen Mitschke: We actually rent out everything that concerns mobility. If someone wants to go on holiday, is planning an excursion or just wants to visit the Rose Garden and is not as mobile anymore, then they can come to us and rent a wheelchair or rollator. If you are not entitled to a nursing bed but would like to use it, then this is also possible.
What's the beauty of your profession?
Romy Waschek: The most beautiful thing about my job is the variety of tasks and the satisfaction of our patients, who leave with a smile on their faces. If that's the case, we've done our job well..
Address
Frankfurter Straße 33
03149 Forst (Lausitz)
Opening hours
Monday to Friday: 8:00 am to 12:00am and
1:00pm to 4:00pm
Tuesday and Thursday: to 5:00pm