Pharmacist in the 2nd generation.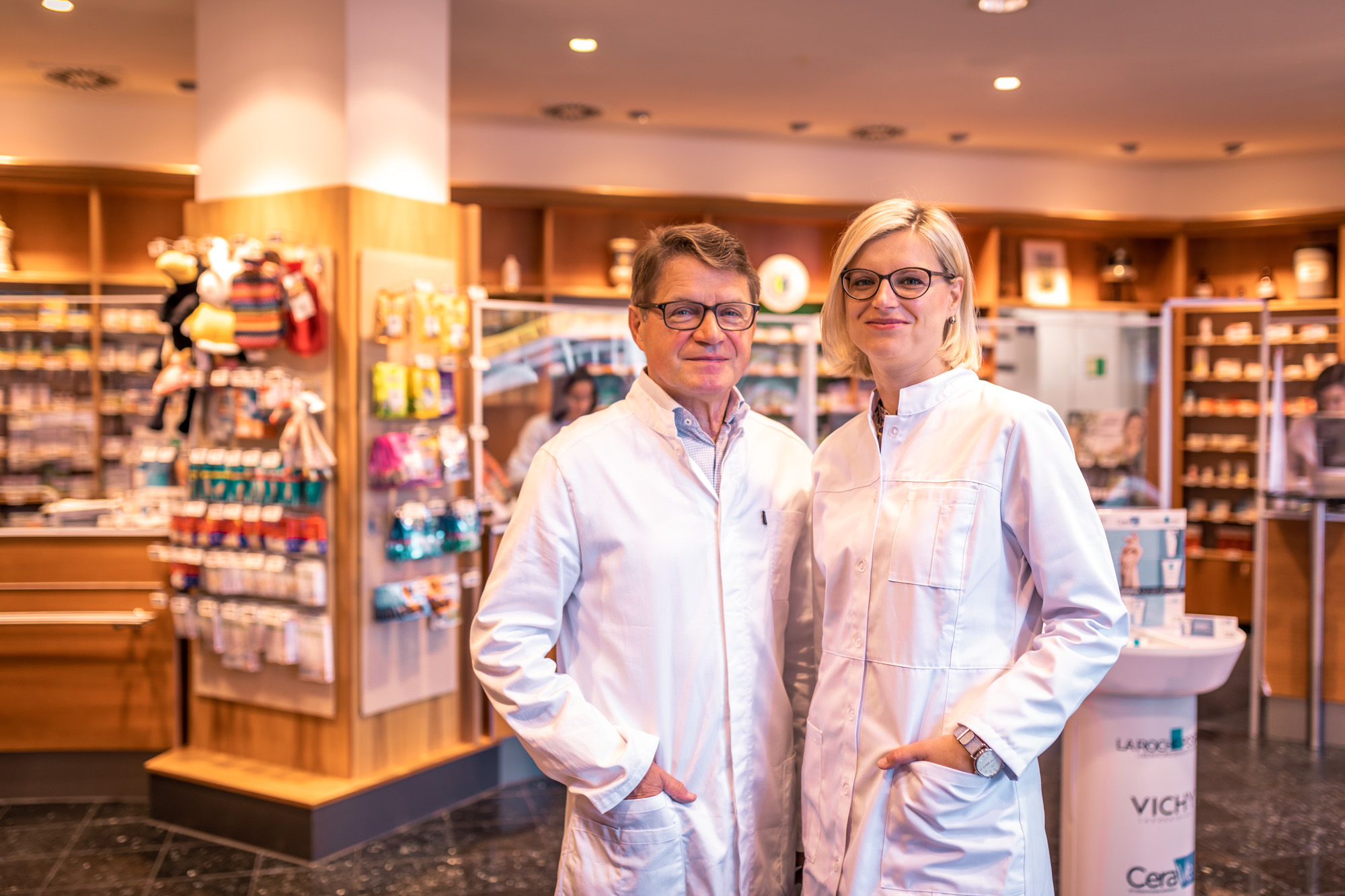 INTERVIEW
Was it always your goal to run your father's pharmacy one day?
Yes, I started studying in Greifswald right after graduating from high school. And it was always clear that I would come back. After I finished my studies, I first worked in a pharmacy in Cottbus and managed it. I was able to try myself, gain experience, to be up to the task.
Your father is still working?
Yes, we still work together. It's what we both want and it's just fun. Plus it works well and made it relaxed and easier for me to get started. He knows what to look out for and what is important.
What do you like about your job?
I really like the contact and the varied work with people, the advice of patients and customers.
How do you experience the development of the guidelines by the health insurance companies?
We have had this problem since 2007. There are discount contracts and the health insurance companies prescribe which medicine or active ingredient has to be given to the patient. At the moment, the delivery situation is more problematic. Already in recent years, it has become increasingly difficult because the production of active ingredients and pills has increasingly been outsourced to foreign countries. But the relocation of the production of masks and gloves to Germany has started and first contracts with companies in Germany have been signed. I think that the intention will be to increase the production of active substances in Germany again.
What is so special about your service?
We offer personal service, which the Internet pharmacy can not. We are trying to make drugs available to the patient faster and on a larger scale, so that he can get his antibiotics immediately, his permanent medication. If the patient is sick or bedridden, so cannot come to us, we will bring the medicaments to their home. We also lend breast pumps and inhalation devices. We produce many medicines ourselves, from eye drops to capsules for children, ointments to suppositories. There is a rule about what area in the pharmacy has to be how big, and that's how it is with us. From time to time we shoot a little video out of the lab, which can then be viewed on Facebook, for example. The customer can see how suppositories are poured – this makes the pharmacy a little more alive for him.
We also use the pharmacy app "deine Apotheke" as an additional service.
What Forst means to you?
Home. My village has been incorporated. I come from Groß Jamno and like the advantages of a small town. There are short distances. The kindergarten is almost on the way to work. Shopping, doctor visits – everything can be done with little time. And if you want to take advantage of what the big city has to offer, it's a maximum of ninety minutes to Dresden or Berlin. Ultimately, this is what Berliners need to get from one end of the city to the other.
On the other hand, we have nature right on our doorstep and can use it directly, as well as cycle paths and paths for walking. We have a great outdoor swimming bath and indoor swimming pool. There are also many options for children. Or I can think of special events like our Midnight Shopping, Steamrose Festival or our "Rosengartenfesttage". The Spreewald is not far away and I will be at the theatre in Cottbus in half an hour.
Is there anything where you say the city government could help me, that would be good?
No. It is a good cooperation. If I had something, I know I can contact the city council or the mayor. We now have for example, our annual calendar campaign, in which we ask for donations with our calendars. In 2020, we collected for playground equipment (floating noodles and rafts) for the outdoor swimming pool.
Then there is the question about your plans for the future?
I will continue working in the pharmacy. I will guide my daughter through her life. Now through the nursery, later through primary school and school. Just living a normal life and staying healthy.
Do you train as well?
No. Holiday work and internships as part of your studies and training as a PTA are possible with us. We also participate in Girl's Day and social days. This is also well received and makes the professions in pharmacy more transparent.
Address
Friedrichplatz 2
03149 Forst (Lausitz)
Opening hours
Monday to Friday: 07:30am to 06:30pm
Saturday: 08:00am to 12:00am