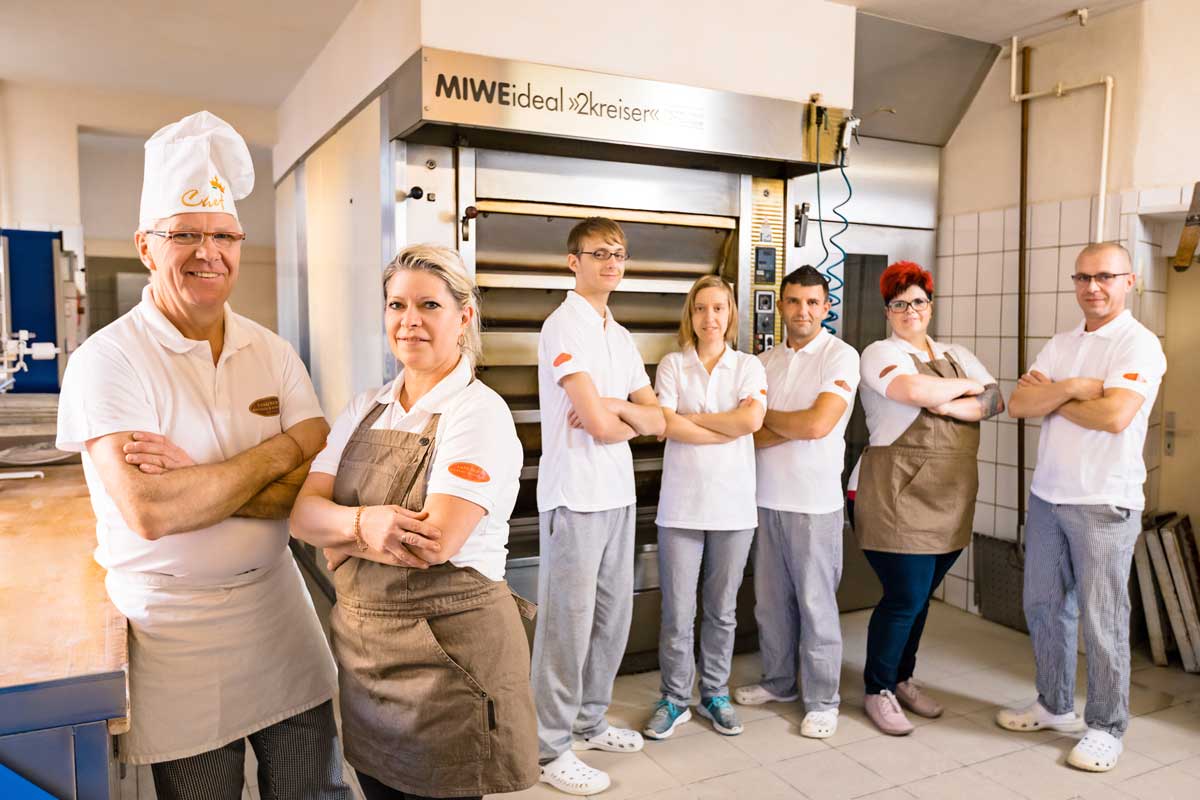 INTERVIEW
When was the bakery founded? 
My father was originally an art painter. Because of the bad economic situation, my grandfather advised him to become a baker. Painting hardly brought in any money. Therefore he followed the advice and completed an apprenticeship as a baker. In 1961 my father started his own business and opened his bakery here in 1963. I too wanted to be a baker from a very young age. In 1977, I began an apprenticeship as a pastry chef in Cottbus and completed it successfully in 1979. After that, I was employed by my father. I completet my master training in 1985 and took over the bakery in 1993. My father worked with me until he retired.
Which products do you offer? 
Mainly breads, rolls and cakes are offered, but also small biscuits, different kinds of cakes and snacks. For customers who are looking for a special gift, we offer individually designed photo cakes, for example.
What has changed since you took over the bakery? 
I used to be a member of the bakers' regulars' table, which was started by my father. In the mid-90s, the sence of community declined and the regulars' table sadly disbanded.
What is your recognition feature? 
My two recognizable features are the tagline: "A path worth taking." and our own design of our company signboard with the picture of my father and me as a little boy in baker's uniform.
What have you enjoyed most so far since its foundation? 
Being able to make my own decisions and not to sell my goods in the supermarket, that's what I always wanted. I like to be able to say proudly that I don't have any buns from the freeze or products prepared the day before. Every day, at 3:00 in the morning, I bake fresh breads and rolls.
I love baking with children from the kindergarten. Then when I ask "Who wants to be a baker?" some fingers go up. This is a nice moment.
What's the hardest part of your job? Is it the early rise? 
No, getting up early doesn't bother me at all. Difficult are the tasks that occur in addition to the daily work in the bakery. The increasing bureaucracy, the strict compliance with the regulations and the information on the ingredients are extremely time-consuming. My daughter had to install a program especially to be able to manage the detailed breakdown of the ingredients in addition to her day job.
Or depositing cash at an ATM, for example, also takes a lot of extra time. Sometimes when the machine isn't working right and it's taking even longer than usual, I think, "You'd almost have to hire someone to push money into the machine all day. Finding suitable staff is not easy either. The biggest hurdle to this is the work time in our profession.
Do you have any plans for the future? 
Yes, I would like to build a pavilion on Virchowstraße.
But no more new subsidiary. I want to maintain my quality.
Are you training or do you have any vacancies? 
Yes. With us you can learn the profession of bakery and bakery salesman and we are constantly lookingn for suitable personnal.
Hauptgeschäft
Address
Görlitzer Straße 12
03149 Forst (Lausitz)
Contact
Opening hours
Tuesday to Friday: 6:00am to 6:00pm
Saturday: 6:00am to 12:00am
Zweitgeschäft
Address
Virchowstraße 6-8
03149 Forst (Lausitz)
Contact
Opening hours
Tuesday to Friday: 6:30am to 5:00pm
Saturday: 6:30am to 12:00am

Drittgeschäft
Address
Spremberger Straße 27
03149 Forst (Lausitz)
Opening hours
Tuesday to Friday: 6:30am to 5:00pm
Saturday: 6:30am to 11:30am