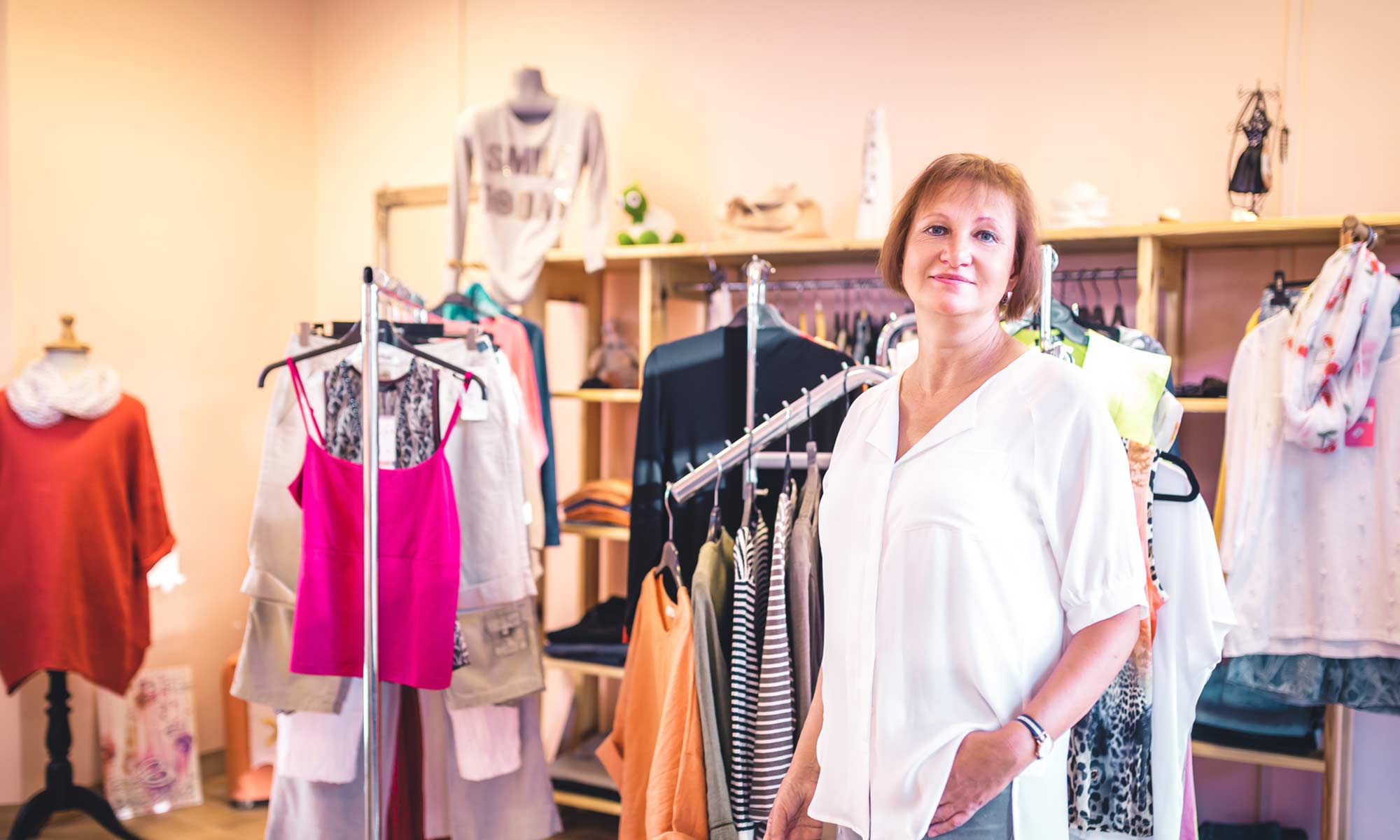 INTERVIEW
How did it come to the foundation of your store?
Even as a child, I sewed for my dolls and stuffed animals. The love of tailoring was practically laid in my cradle. My father worked in fabric development and my mother worked in a fabric store. Already in the GDR I wanted to open my own tailor shop. However, since living space was not allowed to be used for business, there were no premises for this. We then set up a sewing room in my childhood home. That's where it all began. The "waiting room" was in the veranda. A few years after the reunification I moved into my own store. For a long time I was in Triebeler Straße, until I finally found the location in the city. The store in Berliner Straße is ideal with its parking lot and the staircase in front of the door. Nowadays, customers want to park right in front of the door if possible.
When did you start your business?
On April 1, 1990. Next year I'll be celebrating my 30th anniversary.
Where do you get the fabric for the made-to-measure pieces?
Most of the time my customers already have the fabric with them, but more often I get it from the fabric store in Berliner Straße. Often it's alterations that I make, like shortening the pants or sleeves, or sometimes I have to make something tighter. Now and then, the zipper on the winter jacket must be renewed. It doesn't get boring.
Do you have a customer base?
There are a lot of regular customers, but someone always drops by spontaneously. That's always different, too.
What was the biggest challenge?
Sewing the dress for Silke I, the Rose Queen in 1995. The most difficult thing was to reconcile her wishes with those of the city.
You decided to offer clothing as well?
Yes, to make the store more attractive. This way the store looks more inviting and I can always redecorate as well. And also the trips to the wholesalers are always exciting, what great new things are there now. It really livens up the store.
Is there anything you'd like to see from the city government?
Attracting more retailers is important. There needs to be more life in the city again. I'd rather have 10 more clothing stores and competition than empty stores and no life in the city center.
Why have you always remained loyal to Forst?
The question of moving away has never arisen. I am at home here.
Address
Berliner Straße 14
03149 Forst (Lausitz)
Opening hours
Monday to Friday: 9:00 am to 6:00 pm
Branch
Custom tailoring
Alteration service
Ladies fashion