From school to self-employment.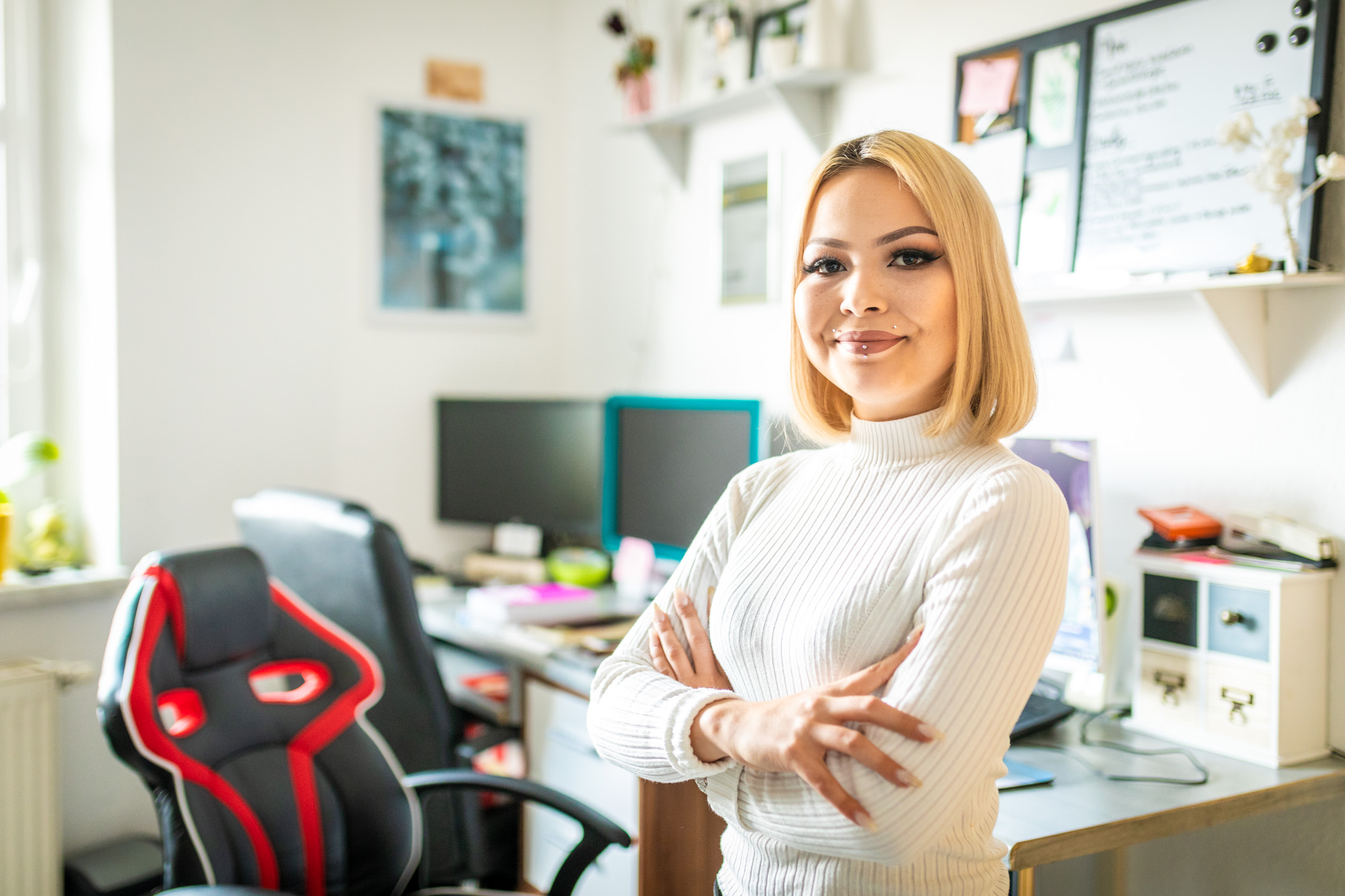 INTERVIEW
You are the youngest entrepreneur on the site so far. How did you come to the decision to start your own business?
Even as a child I was totally creative, always drawing and always said: " When I grow up, I'll be an artist."
After graduating from high school, I trained as a design assistant and wanted to work in this sector. But I let myself be convinced to learn something more "normal or usual". In the trade I was not happy at all and kept thinking about how to go on. Shortly afterwards, I said to myself: "It's not crazy, others are founding too", and I gathered all my courage, dropped out of my apprenticeship and founded my business right away.
A courageous step…
Yeah, but my life has totally changed since my business was founded. I've totally changed, I've evolved personally.
What happened then?
Then after incorporation it was like, "ok, I've incorporated now, there's a company called JimProd. . . , that offers graphic design. – Now what?" Where do the customers come from? What do I do now? How do I live with my company?
I founded it through the Garage Lausitz. They had some really good tips for me. The network behind it really helped me in the beginning. In the meantime, I am constantly active on LinkedIn and Instagram, constantly optimizing my online presence so that I can find more customers.
How do you create your designs?
This varies depending on the customer. First, I check the market and the competition on the Internet – because even if I have a good idea, it doesn't mean that someone else hasn't had it before. It is very important to secure that. For the clients I created questionnaires with which I ask everything about the person, the company and also the values of the company. Everything then flows into the design, because in the end the company appearance represents the entrepreneur, even if he is not on site.
Why did you choose Forst?
During my apprenticeship in Potsdam, anyhow I was here in Forst every weekend. Being close to family and friends is very important to me. In Forst it is simply more relaxed than in the big city. If I ever need action, I'll be in town fast.
Finally is there any history to the company name?
This goes back to my social media nicknames. Since you have to decide for a nickname and a friend has then made the suggestion Slim-Jim. It wasn't a bad idea. I made thelittlefim straight out of it and since I am 14 years old my entire online presence is based on the name Jim.
When it came to the name of the company, the thought was: Everyone knows you under Jim, then jimproduction, abbreviation for production is prod. – and so there was JimProd.
Address
Cottbuser Straße 53
03149 Forst (Lausitz)
Opening hours
on appointment