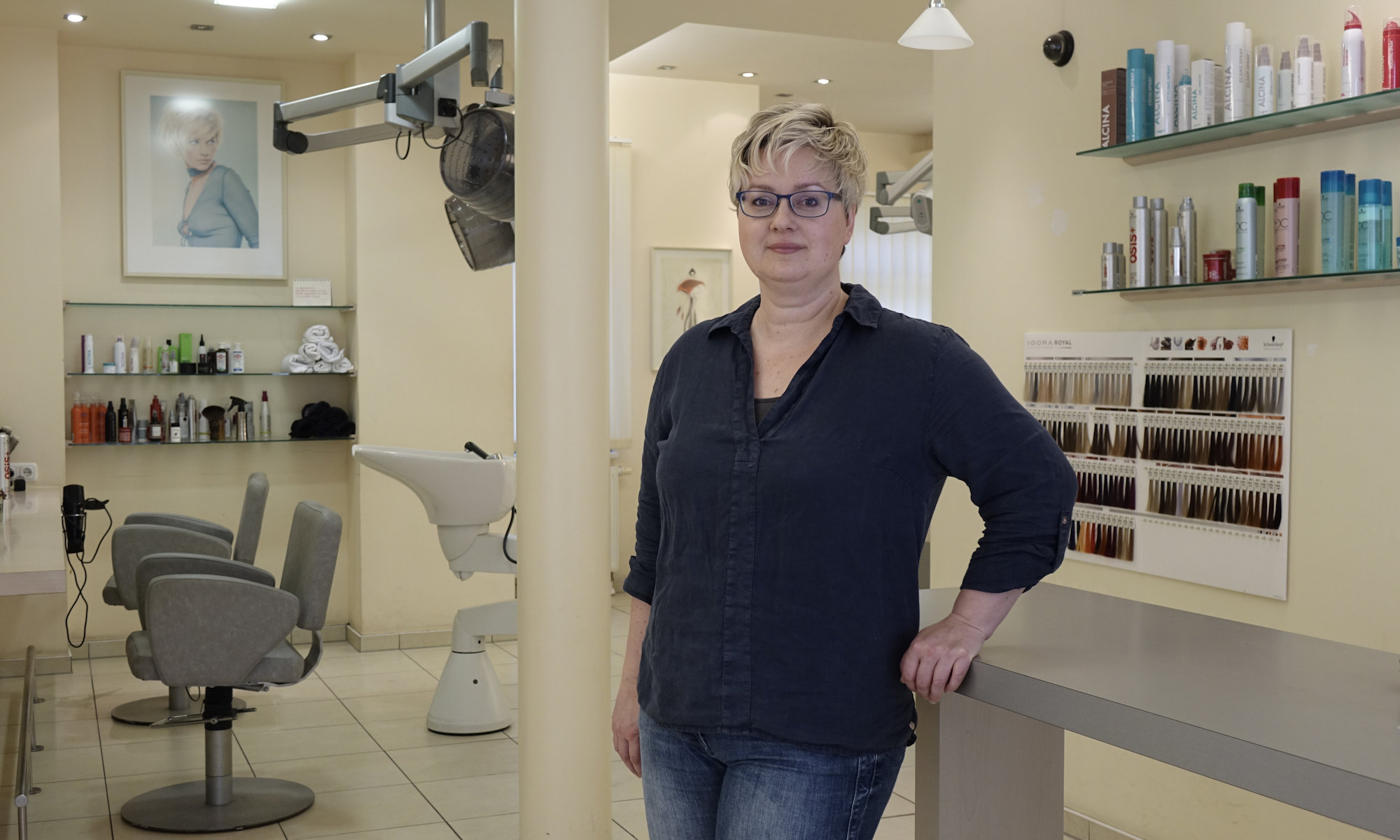 INTERVIEW
Katrin, you took over the business from your mother at the beginning of 2021. Can you tell me something about your history and whether this was always a foregone conclusion for you?
My mother founded the company in 2005. And it was clear from the beginning: I'm changing jobs and becoming a hairdresser. It will be a mother-daughter business.
My first job as a dietician was exciting and beautiful. Nevertheless, it was always planned to join here. I always wanted to be a hairdresser, to do manual work. So at 27, I started my second apprenticeship and later my master's degree.
Did you ever regret changing careers?
No, never. I liked working in the clinic. But I am a hairdresser out of passion. That's not work for me.
What were the challenges in taking over?
With the lockdown again in December 2020, I was forced to have wonderful time to do everything. So I was able to take my time making the changes that a business handover entails and get to grips with the "admin". Change contracts, insurances, inform suppliers, get to know the tax consultant. Zukunft Lausitz and the Cottbus Chamber of Crafts helped me with the big challenge, such as creating a business plan and applying for funding.
I let everything else come to me. You only notice a lot in your day-to-day work. Making mistakes is part of it, learning from them is even more important! Of course, they shouldn't happen too often.
What do you like best about your job?
It's actually my customers, the different people who come into the store every day. How do we function together? What are we doing with the hair today? That's always nice. That way I can live out my creativity. It also never gets boring. Because every hair is different, every length is beautiful, curls, straight hair, men, women, children – this is how small works of art are created on people's heads.
Very important to me is the work, especially the communication with my team. It doesn't work without them.
Like clothing, hairstyles are subject to fashion trends. Is it exhausting to have to reinvent hairstyles again and again?
How do you want to redefine hair? The basic cuts are always the same, but they're constantly changing. It's about colors, it's about lengths. Elements from fashion are taken up just like elements from nature. So transitions, textures, color gradients, the variety is overwhelming and depending on the type, I can bring everything into the hairstyles. It is also nice when customers come to me with their own creative ideas. And then ask: Is that possible? That's where our individual consultation comes in, of course. The proportions should be right. Another point: Every hair is different, every swirl is different. Not every hairstyle suits everyone. But together we always find the right hairstyle. The most important thing for me is that my customers go out and are happy and satisfied with their hair all around.
Is there anything that is difficult?
No, generally not. And if there is, I rise to the challenge.
And if there's ever no easy solution, especially in relation to a particular hairstyle request, then "hairdressers" work their "magic" as they always have.
What role does Forst play for you and your business?
I feel connected to Forst. I was born here. Even though I no longer live in Forst, I have a lot of ties to the city. I notice that when I talk to my customers.
Address
Thumstraße 1
03149 Forst (Lausitz)
Opening hours
Monday: 1:00 pm - 6:00 pm
Tuesday to Friday: 8:30 am - 6:00 pm
Saturday: 8:00 am - 12:00 pm
Branch
Ladies' and men's hairdresser