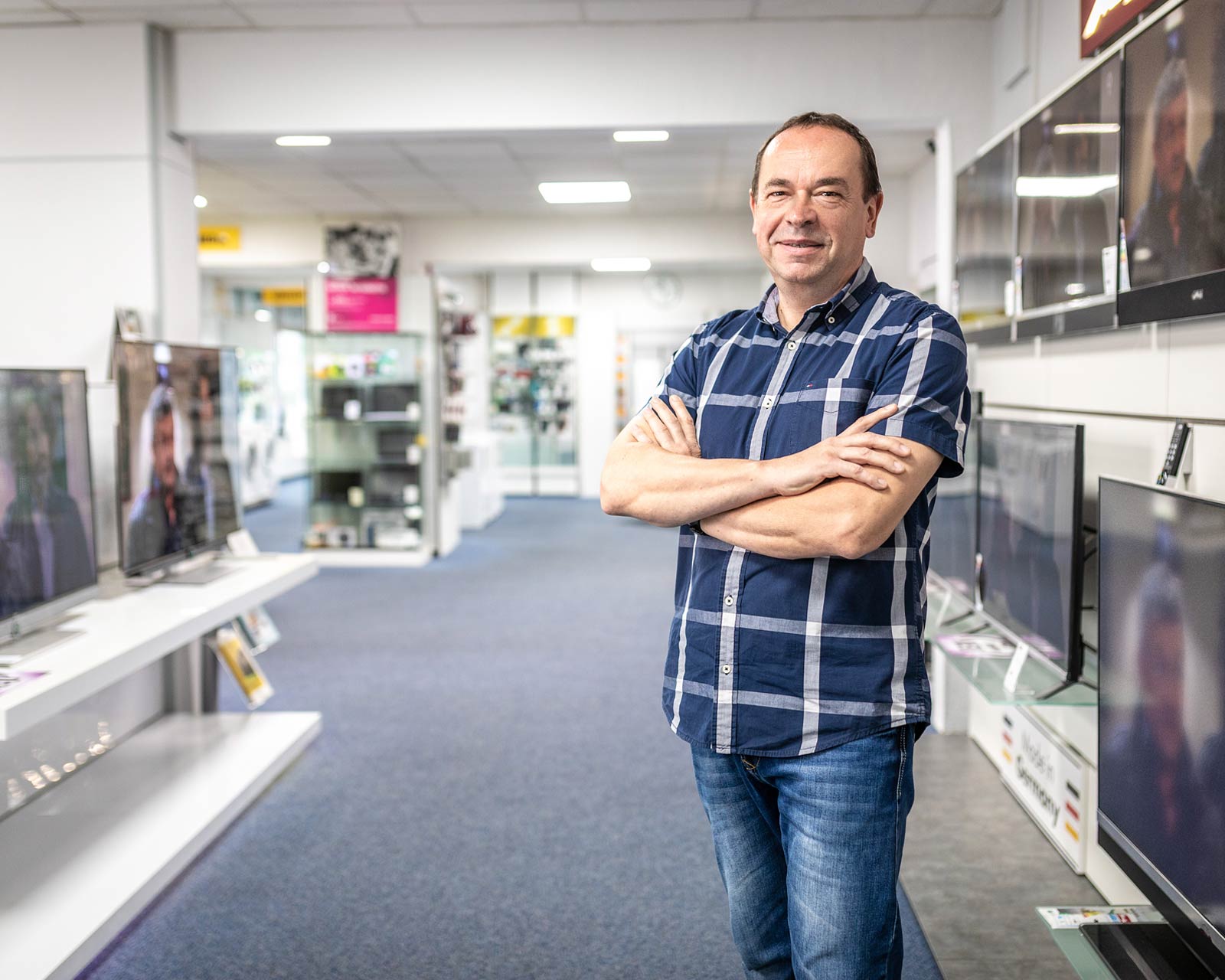 INTERVIEW
Tell us a bit about the history of Funk & Technik?
We have been a reliable partner in the EP: network since 1990. But as a PGH, we had already been known in Forst since 1960 as a dealer in radio receivers and their repair. After the fall of the Berlin Wall, we became independent. When the various divisions were split in 2005/2006, EP: Funk und Technik Service GmbH was founded in 2006.
When we were offered the position of managing director, we had a few sleepless nights. After all, there were not only the liabilities towards the suppliers. No, there was also the responsibility for our employees. The decision was not made overnight. But we had already worked as employees at Funk & Technik before. So we were able to contribute our knowledge about the company as well as about consumer electronics and household electronics right from the start.
What products (or what) do you offer?
We are a pure trade with service.
We offer TV sets, sound systems, consumer electronics, large and small electrical appliances, home networking and built-in appliances. It is possible to order appliances online and the appliances can then be collected or delivered or installed the next day or the day after.
What are your typical customers?
Predominantly the 40+ age group. Our service includes not only the sale, but also the delivery, installation and fitting of appliances. We don't distinguish ourselves by price, but by service. The younger generation doesn't go to the shop as often and when they do, it's for the smaller purchases or advice.
What do you use for marketing?
We are in the association with EP. This means that the impact or perception is greater. The website is regularly maintained by EP. As a retailer without an association in the background, this would be more difficult. We also use the city channel – Forst TV. Every month, 14,000 flyers are printed and distributed with the Märkischer Boten.
What are your plans for the future?
Service has or is the future, everyone has a washing machine, a dishwasher etc.
Does your company train apprentices?
Yes, we currently have an apprentice as a household appliance mechanic and next year a commercial apprentice.
What would you like to see from the city?
It is important to revitalise the town centre and thus make it more attractive for customers.
The pavement in front of the shop and the other shops on Berliner Straße is only lit by window displays. Since the street lighting was switched to LED, it is sometimes pitch black in winter.
Hauptgeschäft
Address
Berliner Straße 4-8
03149 Forst (Lausitz)
Opening hours
Monday to Friday: 9:00 am to 6:00 pm
Saturday: 9:00 am to 12:00 pm

Branch
TV & Audio
Household and kitchen appliances
Telephone & Navi
Computer & Photo
Body Care & Health

Zweitgeschäft
Address
Sorauer Straße 17
03149 Forst (Lausitz)
Contact
Opening hours
Monday to Friday: 9:00 am to 6:00 pm
Saturday: 9:00 am to 12:00 pm

Branch
TV & Audio
Household and kitchen appliances
Telephone & Navi
Computer & Photo
Body Care & Health