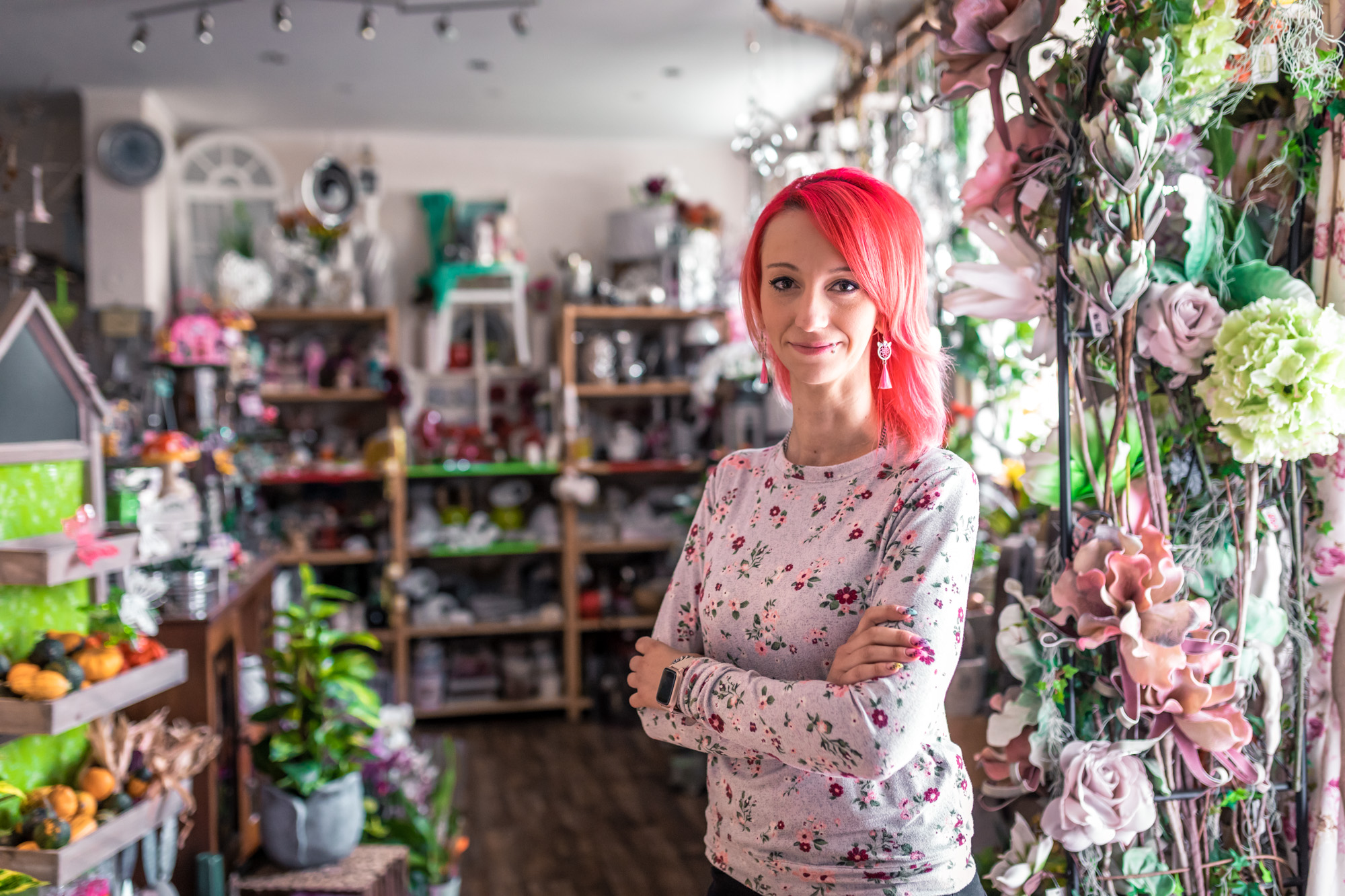 INTERVIEW
How did you come up with the idea of founding the company?
It was a rather spontaneous idea. After quitting my job, I happened to be standing in the premises of the closed Chinese restaurant. Then it popped into my head: "It's now or never! I'm still young." No sooner said than done and so I went into self-employment on 1. November 2014.
A very sweet grandpa gave me the idea for the name. He was my customer in my previous employment and always called me: BLUMENFEE. Even when we ran into each other by chance while shopping.
What was the biggest challenge?
That everything happened so quickly. Within eight weeks, the shop was set up and I was able to open.
What do you like most about your work?
The job itself; it's just great. I always have lovely and nice customers around me. You never have negative moods and that's actually the best thing about my job.
And what, on the other hand, is the most difficult thing?
Nothing! Honestly, I can't think of anything. I also like to work longer hours or fulfil special requests. But I don't really call that arduous. Even the long construction phase here in Spremberger Straße went very well thanks to my loyal customers.
Who are your typical customers?
That's a funny question.
Actually, everything that exists in Forst; both private and business customers. I work with funeral homes, among others.
What services and goods do you offer?
My main business is cut flower arranging. I offer plants, decorations and dry goods.
Do you offer training or are there opportunities for internships/holiday work?
No. I am not allowed to train. I do not have the necessary training licence. I have not had good experiences with trainees, regardless of age. I do not want to offer holiday work.
What role does the location in Forst play for you?
I like the fact that my shop is not directly in the centre of Forst. My customers find their way to me. I don't have any random customers. The customers come especially for me and my work. That fills me with pride.
Why have you always remained loyal to Forst?
Forst is a fascinating small town. People know where to go if they need help. People help each other. Everyone knows each other. I think that's what's great about my home town.
What are your plans for the future?
I would definitely like to remain loyal to the clients; to be able to continue practising in my "corner". Due to the current situation (Corona), it is not possible to make any long-term plans at the moment. For the time being, it's a matter of HOLDING ON.
Nevertheless, I have no plans to increase the size of the premises or the number of staff. I want to continue to run my shop alone. That is completely sufficient for me at the moment. I am completely satisfied and can cope perfectly with this overall situation.
Address
Spremberger Straße 12
03149 Forst (Lausitz)
Contact
Opening hours
Monday - Friday: 9:00 am - 1:00 pm; 2:00 pm- 6:00 pm
Saturday: 8:00 am - 12:00 pm