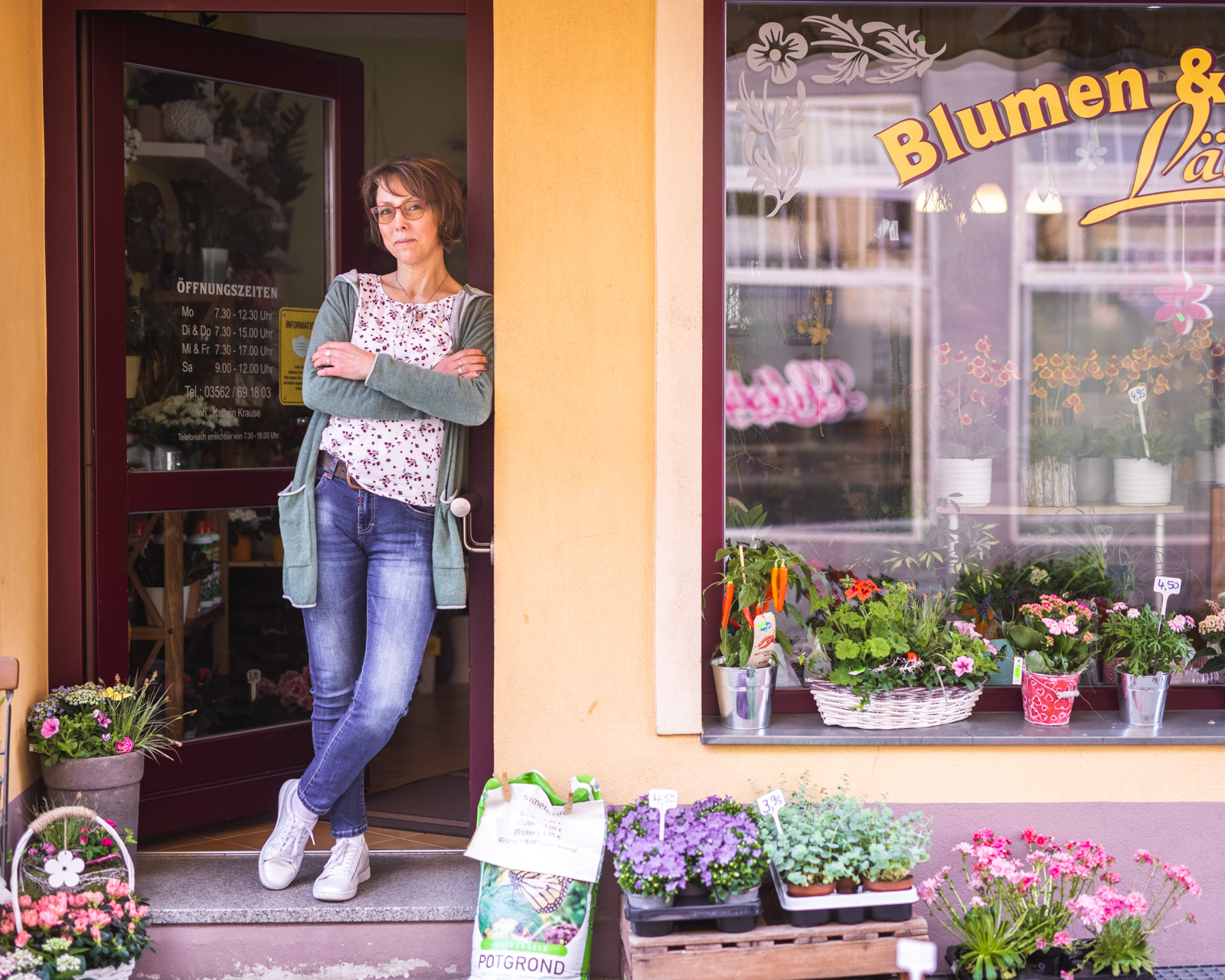 How did the flower shop come to be founded?
In 2006, I founded the flower shop together with a colleague from work. At that time, both of us were unhappy and looking for a new challenge and occupation. And then everything just fit for us – the time and the place. The house was renovated and the shop refurbished. We used the Brandenburg Day in May 2006 as the perfect time to start our "Blumenstübchen".
My long-term partner has meanwhile gone into well-earned retirement. Now I continue to work in the "Blumenstübchen" as a lone fighter.
What are the biggest challenges?
Every day is different and always a new challenge. I give my best every day for the satisfaction of my customers.
What do you like about your work in particular?
I really enjoy dealing with people and flowers. It is my passion to create something beautiful and to arrange flowers for every occasion. I like to give my customers advices plant care to ensure that they last for a long time. My regular customers also like to come by just to chat.
What is the most difficult for you?
The purchase power in Forst is very fluctuating. The location in the middle of our town is very good, but keeping up with the big discounters with their low prices is not easy. I would also like to include more ceramic products in my range for what a flower and gift shop is especially suitable. These goods are a bit more cost-intensive and demand is low at the moment.
Who are your typical customers?
I mainly sell to private customers. A collaboration with companies is rather seldom.
Where do you get your goods from?
I get most of my flowers and plants from Holland. I also work with regional entrepreneurs, such as Gärtnerei Köhler.
Are there any plans for the future?
Due to financial reasons, an expansion of the shop is currently not an option. However, there are plans to redesign the shop.
Do you offer any opportunities for training/internships/holiday work?
I don't have a master training and am not allowed to train. I also don't offer internships or holiday work because my shop is too small for that.
Have you always remained loyal to Forst?
Yes, Forst is my home and I grew up here. I have spent my whole life in Forst and have never been away.
Address
Cottbuser Straße 1
03149 Forst (Lausitz)
Contact
Opening hours
Monday: 7:30 am to 12:30 pm
Tuesday & Thursday: 7:30 am to 3:00 pm
Wednesday & Friday: 7:30 am to 5:00 pm
Saturday: 9:00 am to 12:00 pm
Branch
Flowers
Plants
Gifts