from construction to care manager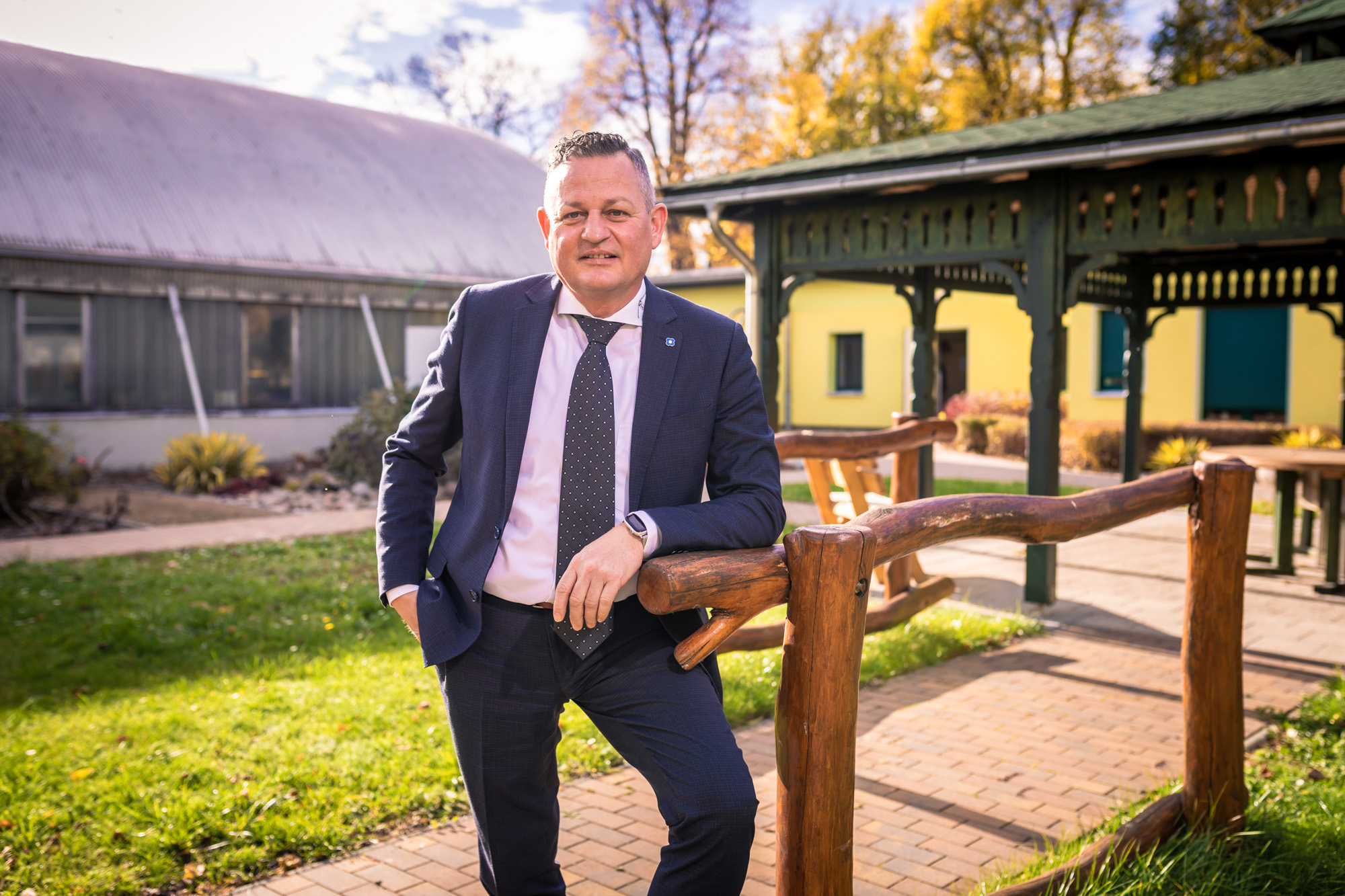 INTERVIEW
Would you tell us something about the history of the company?
When this question comes up and I tell someone who knows me from before that I run a care company, they don't believe me. My first profession was as a locksmith, after the fall of the Berlin Wall I went into construction and worked my way up to site manager.
My mother had a nursing service since 1995. Together with my siblings, we thought about what to do with the company in the early 2000s. At that time, I was on the road almost daily as a site manager on construction sites between Berlin, Frankfurt and Dresden. The time was good, I had my freedom, almost everything was impeccable. But I was constantly under power. And then the day came when I realised: I can't go on like this.
So I decided: You're going to become a nurse, that's what you do now. Then I did further training to become a nurse and then a nursing service manager, and during that time I also worked in the company. That was quite a change.
What happened next?
In July 2007, I officially bought the company. At the beginning we had twelve employees. In 2010, I bought the premises here in Frankfurter Straße. In 2011 we opened the first day care in Forst and in 2015 a care service in Guben. In 2016, the palliative team was added and we opened the medical supply store.
What was the biggest challenge?
The licensing of the medical supply store; the bureaucratic effort, the hurdles are enormous. That was very challenging for me. The bureaucracy in general also makes it difficult. The effort, for example, to apply for funding, is a deterrent. An enormous amount of money is also wasted. Many things could be simpler.
What role does Forst play for you?
A very big one. Forst is my hometown and it is very important for me to do something for the city or this whole region and to employ people. I am very grateful that I am allowed to do this with the great team I have here. They understand me and work well with me.
I am also convinced that you don't have to leave in order to fulfil yourself. There are so many opportunities in our region now.
Do you have plans for the future?
Doesn't everyone have them?
Yes, we are planning two day care facilities in Tschernitz in cooperation with the Döbern Land office. They are to be built in the next few years. It will then be our task to provide reasonable care. Qualified, reliable staff are important for this, and they are few and far between.
Otherwise, the plan for the future is to still be on the market in 20 years and that we are all doing well. We can also be happy about what we have.
A nice closing word!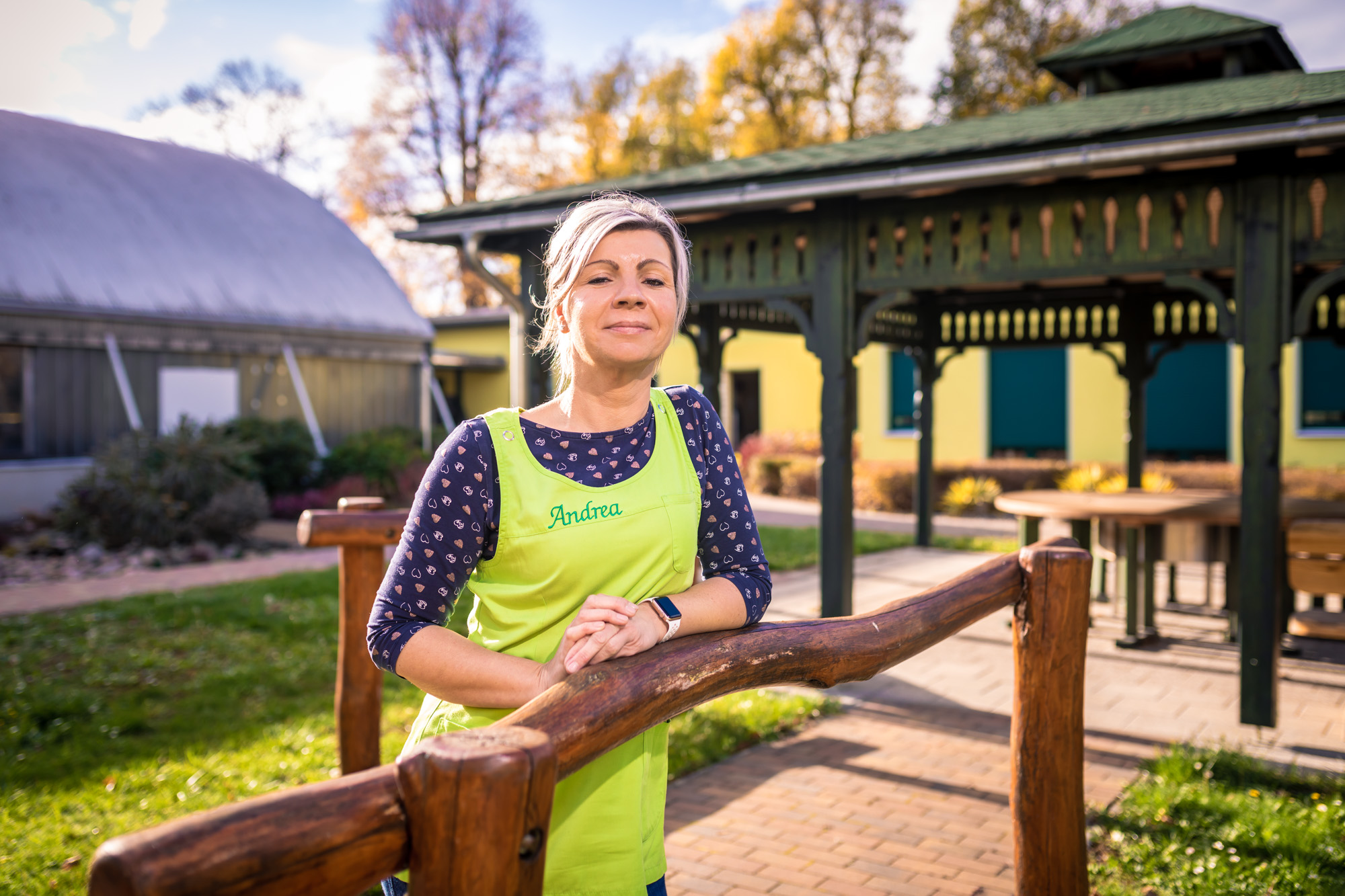 Tell us something about the work in day care?
There are currently 20 day-care guests in our day-care centre, who are with us for eight hours a day and need to be kept busy and cared for during that time. It's not just drinking coffee.
We are a great team and work well together. That's the most important thing, that we fit well together and stand up for each other.
What is the biggest challenge in your work?
Working with patients with dementia is very demanding. This has also changed a lot in recent years. The proportion of day guests with severe dementia is high.
We cater for different dementia groups, which have to be kept busy in different ways. There are, for example, very loving, calm people, people with word-finding disorders, but also aggressive types of dementia, which are a great challenge to our profession. We work every day to do justice to all groups of people.
It is also very difficult to find reasonable, continuous and constant staff. Often the ideas of the applicants are quite different. It is not mainly about amusing our day guests, a large part of the work also involves "unpleasant" activities. Some people shy away from that.
What do you like best about your work?
The variety. I have to deal with a lot of different people, day visitors, relatives and staff. My job is not just office work, everyone does everything here. Be it employment, treatment care, cooking and tidying up. It doesn't get boring here, it's a very demanding job. I love what we do, even if I sound like an infomercial for day care now. And I think I also speak for my team when I say that we have the most beautiful workplace in the world here.
Pflegezentrum Forst (Lausitz)
Address
Frankfurter Straße 33
03149 Forst (Lausitz)
Opening hours
Monday to Thursday: 7:00 am - 4:00 pm
Friday: 7:00 am - 3:00 pm
and by appointment
Tagesbetreuung Forst (Lausitz)
Address
Frankfurter Straße 33
03149 Forst (Lausitz)
Opening hours
Monday to Friday: 7:30 am - 4:00 pm